Grafe's Bike Drive's Used Bikes For Sale
If you want one of theses bikes please put down 20% down on them threw Paypal only way you can save a bike. lgrafe@gmail.com
Make sure it's not sold already by calling me ot txt me first 914-443-2474.
If you our using along distance number be sure to leave a message.
Located at: 67 Washington st Middletown Ny 10940 Appointment only 914-443-2474
G.B.D. has given away 2870 free bikes to kids and saved our area landfills 5731 bikes.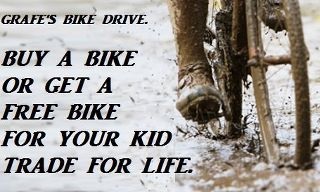 Theses bikes will be sold for expenses for Grafe's Bike Drive
Bikes need to be picked up at 67 Washington st Middletown Ny


12 and 16 INCH BMX BIKES (3-6 years of age)
20 INCH SPEED BIKES (10-16 years of age)
BMX BIKES (10-20 years of age)

Girls BMX BIKES PAGE 2 (10-20 years of age)

Bikes need to be picked up at 67 Washington st Middletown Ny